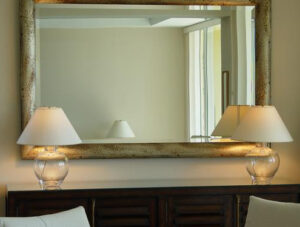 When You Want Something Special
We specialize in high end mirrors for exclusive homes and offices where nothing but the best will do. And we only use real wood mouldings unlike most mirrors found in home improvement or decor stores which are framed in plastic wood substitutes.  We custom size the mirror to your wall requirements. Custom sized bevels available from 1/2 to 1 1/2 inches
Most ready made mirrors are standard sizes and use thinner mirror glass which is prone to distorted images when large sizes are involved.
Check Out This Fast Recent Installation
 Please call to make an appointment with a mirror designer 
(760-432-8995)
Budget Priced Quality Custom Mirrors
How it works:
1. You provide us with some idea of your design motif or objective, location and rough size estimate.
2. We  provide you with  samples or even computer design links to use to arrive at "your look" to finalize your choice of mirror moulding.  If no moulding is to be used, we go to the next step.
3. Once you have finalized your choices in mirror, bevel type, moulding (if moulding is desired), we  send  someone out to get precise measurements if it is a large installation. Otherwise you supply us  with the dimensions needed.
4. We price the mirror.  Upon your acceptance and providing a deposit, we build your mirror project. It takes about a week from approval to delivery (and installation when  required).
Serving all of San Diego including Carlsbad, San Marcos, Escondido, Oceanside, Rancho Santa Fe, Valley Center, Fallbrook, Bonsall, Vista, Del Mar, Encinitas, Solana Beach, Rancho Bernardo
 
Warehouse/Clearance Center
1850 Hacienda Dr. No. 16 Grand Ave.
Vista, Ca. 92081(At Emerald exit on the 78)
Over 200 50% off mouldings and over 3,000 mouldings alltogether to choose from, San Diego Discount Mirror specializes in classic mirror design and installation at discount prices. Our professionals can craft a mirror for an oversize vanity, undersized RV bedroom or even install an entire wall of mirror.  We can coordinate and add to any design look or concept that you are working with.  We have a long history of  working with designers, decorators and contractors  to provide the technical know-how and  specialized mirror materials to complement your special interior design project.  Once the design is finalized, our professionals are in and out of your house in quick order (see link at bottom left for example of recent 38 minute installation of an 8 foot by 5 foot framed vanity mirror).